Oeko Tex certification, organic certification or GOTS certification… You must surely know them. And for good reason! These are the 3 most common textile certifications. But how to distinguish all these certifications? What are the differences between an organic fabric and GOTS? Which fabric is the most fair, ecological or ethical? We tell you everything!
The development of ecological certifications
In recent years, ecological certifications have been expanding rapidly. According to the <a href="https://www.agencebio.org/vos-outils/les-chiffres-cles/">Agence Bio</a>, the French organic market has reached a growth of more than 13% in 2019 compared to 2018. This market growth, but also public opinion, is pushing companies to develop organic products and/or products that respect the working conditions of producers, and textiles are no exception to the rule. Clothing, furnishings, or even creative leisure, all textile sectors proudly mark their ecological commitment on their products. But what is the reality of this commitment? Is an organic textile more responsible than a non-labelled textile?
Organic, GOTS or Oeko Tex®: which one to choose?
To answer the question above: no, an organic textile is not necessarily more responsible than a non-labelled textile. To understand this inconsistency, you have to look at how the fabric is made. For an organic fabric, for example, only the cotton fields are treated without pesticides. The transport of the cotton, the remuneration of the workers or the process of dyeing the textile are not taken into account in the certification. In the case of a GOTS fabric, the entire production, manufacturing and marketing process is controlled.
To better understand these differences, here is a table explaining the similarities and differences of each textile certification: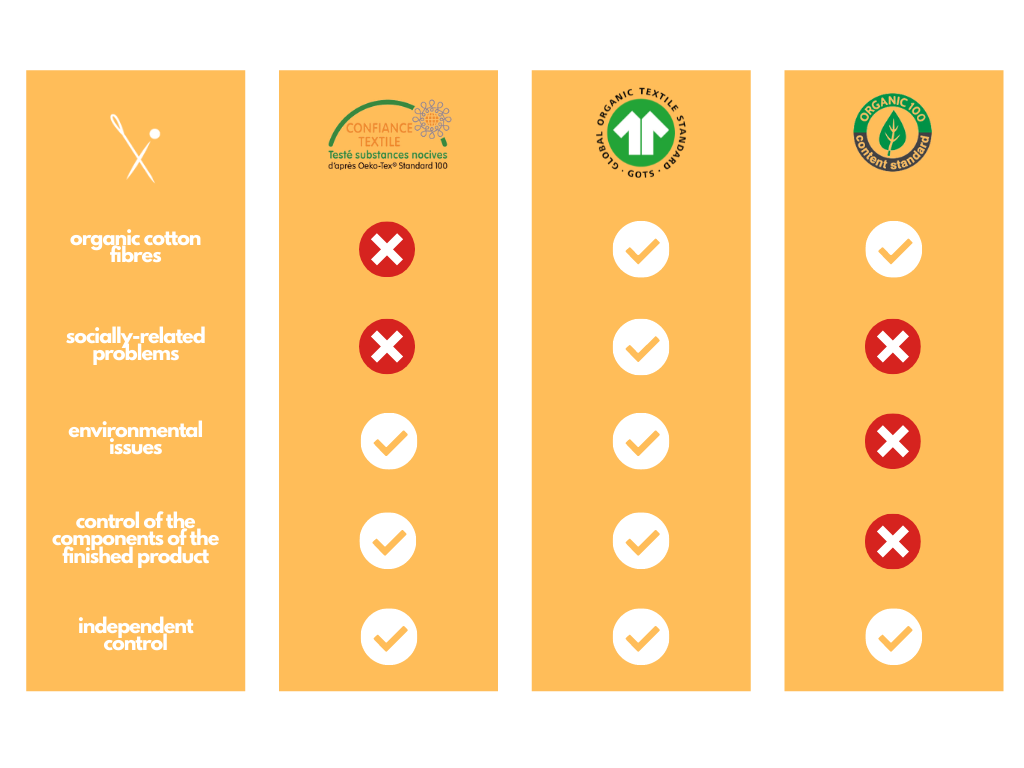 Textile certifications at Domotex
Since our foundation over 40 years ago, we have been committed to offering our customers quality fabrics that can be worn and used by everyone and for everything. This multi-sectoral approach is reflected in our 4 collections: Kids, Fashion, Materials and Creative. Therefore, our fabrics, being intended for clothing or childcare, must be healthy and safe.
This is why all our fabrics are Oeko Tex® certified, the highest textile certification for safety. In 2021, we are taking this commitment even further by certifying some of our fabrics with GOTS, the highest textile certification for social and environmental friendliness.
[Our GOTS license: EGL/230075 – Organic Textile]