For some years now, double gauze has been present in all sectors. It can be found in baby clothes, women's and children's clothing and in decoration. However, it is a fabric that can be frightening. Its atypical aspect can be an obstacle for beginners and even for the most experienced. In this article, we will see together that double gauze is a versatile fabric in which it is possible to make countless creations!
What is double gauze?
Double gauze is a light, soft and slightly airy fabric. It is made from two thin layers of cotton that are stitched together at regular intervals. These stitches form a light embossing on the whole fabric. As there are two layers woven together, the fabric has a pleasant weight. Widely used in women's, men's and children's clothing, double gauze is particularly popular in spring, summer and autumn for its breathability, but also in winter for its cocooning qualities. Double gauze is now used in all sectors: household linen, accessories and decoration.
The benefits of double gauze
As a popular apparel fabric, the double gauze fabric has many practical advantages:
Excellent moisture absorption
Double gauze fabric has a great advantage; that of being particularly absorbent. Indeed, its construction gives it a lightness and softness that adapts perfectly to the skin. It is therefore a very suitable fabric for baby's skin.
Limits sweating and lets the body breathe
Unlike synthetics, which are waterproof fabrics that are prone to perspiration and bacteria, double gauze is a fabric that allows your body to breathe. Being breathable, it does not confine the skin. It is a material that adapts equally well to the skin of adults and children. Indeed, the softness of cotton does not irritate the skin and does not cause odour discomfort.
With double gauze, forget the headache of ironing. Whether folded, in a ball or flat, double gauze will keep its marked embossing that makes its charm. Moreover, it is an ideal fabric for holidays as it does not make you hot and can easily slip into the suitcase, without creasing.
Forget conventional wisdom, sewing double gauze is a breeze! Indeed, the embossing of the double gauze allows to have a guideline when sewing. This makes it easier to find your way around. However, double gauze is a fabric that tends to move when sewing. So hold your double gauze and sew gently! A little plus for the material: double gauze is very easy to cut. For the more experienced sewers, it is possible to cut it without scissors by simply following the embossed line.
Sewing ideas with double gauze
The visual aspect of double gauze can be intriguing and it is only natural to ask what you can do with double gauze. As a fabric manufacturer, our customers have a lot of creative ideas to showcase double gauze. Here is a non-exhaustive list to inspire you:
A jumpsuit
If you want to make an original and simple sewing project, you can opt for a double gauze jumpsuit with a small belt at the waist!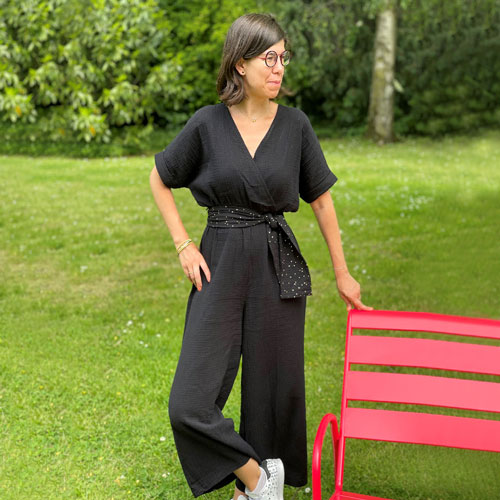 A baby sleeping bag
The lightness of the double gauze fabric is a great help in the making of baby accessories. Here, this double gauze sleeping bag is ideal for the comfort and well-being of your baby.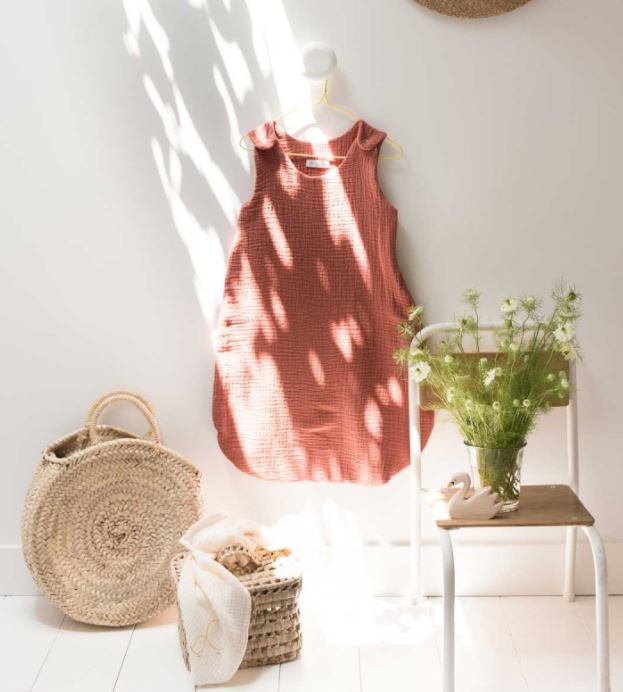 A dress
Very breathable and comfortable, double gauze is the ideal material for a summer dress!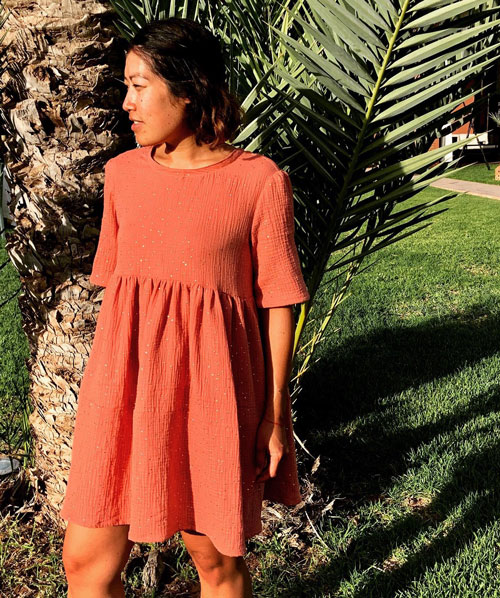 A shirt
With short or long sleeves, a double gauze shirt is suitable for the autumn and summer seasons.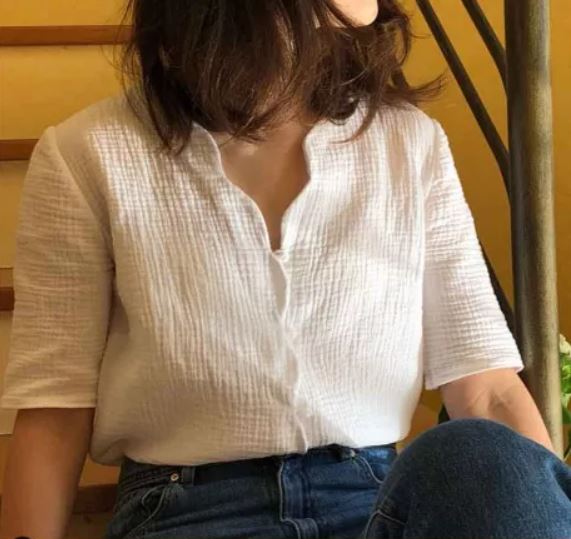 A blanket
If you are used to sleeping with a cotton blanket in the summer, try double gauze. It's a good alternative that won't make you too hot. Alternatively, you can always combine it with minky in winter for a warm, lightweight blanket.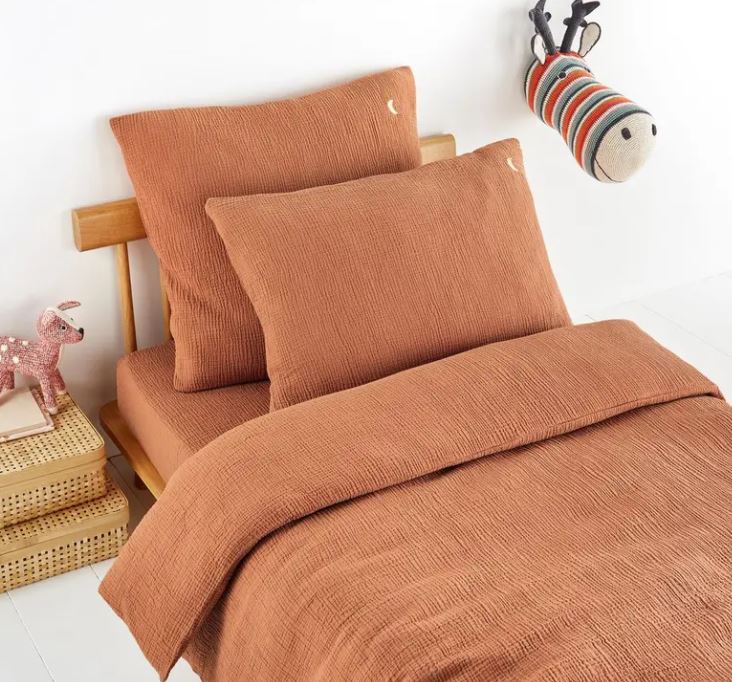 A bag
Whether it's a tote bag or a sports bag, a double gauze bag is a great idea if you want a light and attractive bag.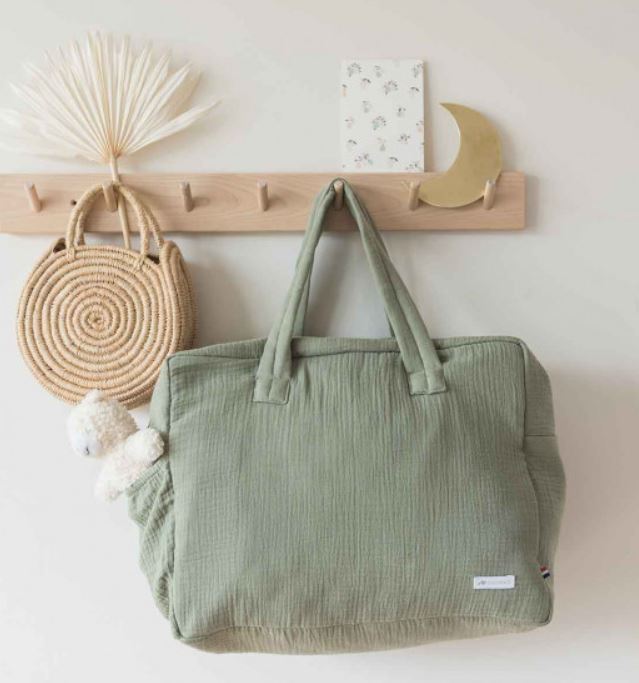 Our tips for sewing double gauze
Before each sewing project, we advise you to wash your fabric. For double gauze, machine washing at 30° without spinning and drying is recommended. After washing, dry your double gauze fabric flat to avoid clothes peg or clothesline marks. Finally, you can iron your double gauze fabric but we suggest you do so at a low temperature or not at all so as not to fade the embossed look of the fabric.
When you are about to sew your double gauze, make sure you hold it with needles. When sewing, the double gauze tends to move slightly. For the needle, we advise you to opt for a size 70/10 to avoid leaving gaps in your seam. Finally, to prevent your double gauze from fraying, we advise you to finish your seam with an overlocker. However, be careful not to apply too much tension to your fabric so as not to deform it. Alternatively, you can finish with a zig-zag seam on your sewing machine.
How to wear the double gauze fabric?
Before wearing double gauze, we advise you to choose the right sewing project for you. In general, double gauze is used for a relaxed look that suits the "crumpled" look of the material. Shirts, tee shirts, blouses, dresses or pyjamas, these garments are easy to wear and quite loose which suits the double gauze perfectly. Bear in mind that the fabric is light, soft and waffle-like, so it does not go well with all patterns or materials. For example, avoid combining a double gauze top with linen trousers. The combination of the two materials can make your outfit look too loose or textured. Instead, opt for denim trousers or a complete outfit in double gauze (dress or jumpsuit). Very light and breathable, double gauze is ideal for summer. It can also be worn in autumn and spring, depending on how chilly you are. Finally, some double gauze may appear slightly transparent. If this is the case, choose darker colours or large patterned gauze. You can also sew a second layer of double gauze over your garment or simply put on an undergarment that lends itself to the outfit.